ABOUT THE King Kiosk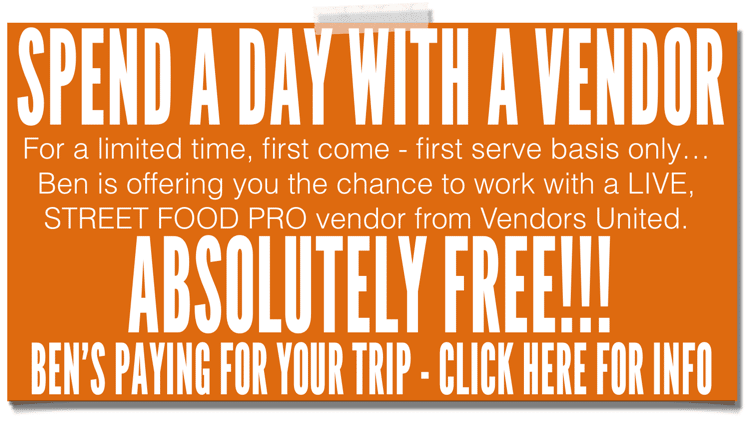 SIZES: 84″ LENGTH plus 40″ towing bar
54″ WIDTH
61″ HEIGHT
WEIGHT: 427 lbs. (approximate)
12v Pump
Hot and Cold Faucet
5 Gallon fresh water storage
7.5 Gallon Waste water tank
4 Sinks 5" X 6"
You have asked and finally we have a true Kiosk cart in our lineup. Serve from the side. The term loaded doesn't do it justice, this cart is jam packed. Two full size commercial steam tables, a huge commercial 408 square inch gas griddle, a pressurized hot and cold water system, bread box, non-mechanical cooler and much more. Read below for all the features. Click on the options tab above to view what optional items can be added. Never before has there been a cart with so much for so little. The King Kiosk will out work even you, designed to make the biggest events a pleasure and keep up with the demand.
Standard Features
POWER SOURCE
Griddle: The commercial LP griddle (17″ X 25″) includes a grease trap with locking grease door and a single control knob for regulating temperatures. It is vented in the rear away from you and your customers. Steam Tables: Two commercial full size steam tables are included and come with 8 pans. 2 Full size spillage pans, 1 Half size perforated pan, 2 one fourth size pans and 3 one third size pans. Includes all lids. Pans and lids are NSF certified and stamped. From breakfast to lunch, the King Kiosk will allow you to serve a wide menu variety.
SINKS AND WATER SYSTEM
The cart comes standard with 4 stainless steel sinks with a hot and cold pressurized water system with no clog drains, a 5 gallon clear water tank and a 7.5 gallon tank for waste water. You can select 1, 2, 3 or 4 sinks at no additional cost. If you want less than 4 sinks, please note this in the comments section during ordering. Sinks areapprox. 5"X 6" and 4" deep. Water system, including all fittings and copper and PEX lines are NSF certified. Choosing less sinks will enlarge sinks at no additional cost. Waste water tank is fixed under the cart body and out of view. It includes a valve for easy draining and comes standard with back flow prevention. Pressure is supplied by the commercial 12v pump. (battery not included) Hot water is supplied via a copper tube that is over the burners, heat from the burners provides the hot water. For more details and information on a continuous hot water system CLICK HERE Water system is vented and is set up to be sanitized easily as required.
WHEEL LEVELING JACK
Leveling posts are included for balance and stability. They slide away easily for transport.
PRESSURIZED WATER SYSTEM
With your 12v. lawnmower or motorcycle battery you can power the included pump that will give you pressurized water. This on demand pump knows when you open the faucet and comes on.
CONDIMENT TABLE
You will love this super functional condiment table. It allows your customers to fix their own dogs while you serve dogs from the front. Saves you time and headaches. Plus, we have added a hidden ice tray under the condiment table so that your recessed stainless steel pans sit on a bed of ice. Condiment Pans and lids are included. Has a drain opening, but we recommend using freezer gel packs instead of ice.
MEAT/BEVERAGE COOLER
This fully insulated cooler has a hinged lid for easy access. It is rated to hold ice for up to 5 days in 90 degree temperatures. Most vendors don't use this cooler for drinks and store extra dogs and condiments here. You will always need a large cooler for drinks, my freestanding cooler holds 300 drinks.
STOW CASE
Below the bread box, depending on how many propane tanks you have is extra storage space accessible from either side of the cart.
LIGHTS
As a D.O.T. approved trailer, our carts include stop, turn and tail lights. Wiring harness includes a standard 4 wire flat connection.
BREAD BOX STORAGE
The oversized bread box rivals others in size. Holding up to 30 bags of 12ct buns and other necessities like napkins, foil and dry condiments. It is solid stainless steel and includes a shelf for a more organized system. Instead of using plexiglass doors, BensCarts upgrades all doors to stainless steel for free, which allows you to keep your supplies hidden from customers view. Plexiglass fades and yellows over time getting these fine hairline cracks and streaks that can make your cart look nasty and old. Stainless steel doors allow for a professional look years from now. Each cart is equipped with two doors for easy access from either side of the cart.
UMBRELLA
The 9 ft. market umbrella is huge. Allowing for some shade on those hot days. It stands out like nicely for visibility. The umbrella is fabric and its structure is metal to hold up to moderate wind and use. Comes in Red or Yellow. See picture on our facebook page.
WARNING!
Before buying a cart, do your due diligence. Make sure you buy a cart that meets your states codes and requirements. I don't want you to buy a cart that you can't use. Simply download or email the cart brochure to your health department and get pre-approved before purchasing. For full details see our free training section.