SHIPPING PRICES
FREE SHIPPING - Limited time offer. Shipping inside the continental U.S. (lower 48 states) to the nearest freight terminal near you or a commercially zoned address (not Aunt May's hair parlor in her home). Does not apply to the Stand King trailer. Standard shipping prices are below. Residential shipping is still available at normal rates and voids the free shipping discount.
NOTE: Shipping prices for the Stand King Concession Trailer are not included here. Average shipping price for Stand King is $1.87 a mile from zip code 37862 for the Continental U.S.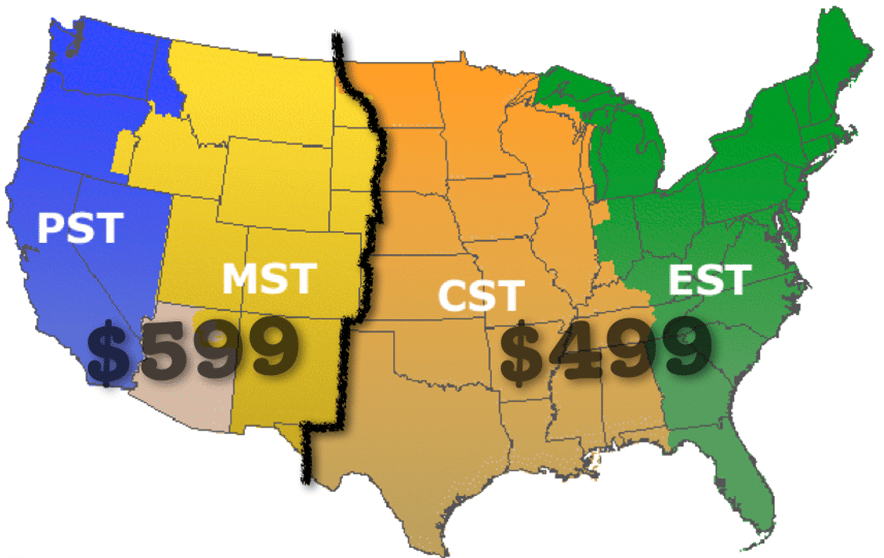 EST – Eastern Standard Time / CST – Central Standard Time / MST – Mountain Standard Time / PST – Pacific Standard Time
Residential Delivery add $125
ALL DELIVERIES INCLUDE A LIFTGATE SERVICE – NO FORKLIFT REQUIRED
To protect your cart for travel; we fully crate and enclose your cart. Crating costs are included in the shipping rates above.
OUTSIDE THE CONTINENTAL US
Average shipping costs to Canada, Hawaii, Australia, UK and the Middle East range from $900 to $1500 –
for an exact quote, contact [email protected]
****** western states can take up to 7 days freight time *********
****** most freight terminals are within 45 minutes of your home zip code ********
PICKING UP AT A TERMINAL:  If you're picking up at a terminal, you'll want to bring a hammer or something to pry with.  Most terminals will let you dispose of your crating there but be prepared if they require you take it with you.  You can watch the owners un-crating video (sent by email when you purchase) to see how get it ready to put on the road. You'll need a 1 7/8th ball on your vehicle and a 4 wire flat hook up for lights.
It will take about 20 minutes approximately to uncrate and prepare for transportation.  Usually the crate is too big for most pickups.  Crates average 48 inches in length, 53 inches in width and up to 94 inches high.  It's always better to plan on un-crating at the location delivered.
We use over 9 carriers. Carrier is selected by our freight broker who processes each delivery by how fast it can be picked up, how close is terminal if applicable and average days to delivery location. Depending on the carrier selected, determines the terminal used for customer pick up. We do not know this information in advance but once your cart is shipped you'll receive an email with the tracking (PRO Number) and will be able to locate your terminal.
SHIPPING TERMS
If you receive a cart that is damaged, you have the right and option to refuse delivery. If there is a minimal damage, keep the cart and make a note on the freight form with the driver. We will forward you the parts needed to replace. For example, your bread box is bent or maybe a side panel is dented bad; Take a picture, note it on the bill of laden and then let us know. We will ship you the parts to replace the damaged area. You can then still file a claim for the damaged parts and labor and be reimbursed by the freight carrier. For claims contact the freight broker whom sent your email with shipping details and tracking information. Note: Contact BensCarts before refusing freight. In the event freight is refused and returned and found to be minimaly damaged, you will be responsible for all crating and shipping fees. Light freight damage can be repaired and BensCarts if required and necessary will have all damages repaired and/or replaced at your delivery state and town.
If you are shipping more than one cart at a time, our system will only charge you for one cart shipping fees.  Please use the miscellaneous payment area to make shipping payments for additional carts.  www.hotdogcartstore.com/pay
Please note: our carts are stainless steel. It is common to find little scratches in the stainless, this happens during manufacturing and is unavoidable. Some of these scratches are common to the steel manufacturer and are that way before we get the steel. You may find places where the protective covering on the stainless is ripped, this is perfectly normal and does not affect your cart. We strive to take great care in building our carts and packaging them for shipping. BensCarts sees less than .05% damaged freight due to our packaging and carrier selections.
If you refuse freight, call BensCarts, take pictures, note on the bill of laden why being refused and contact the freight broker immediately. If pictures show major damage, we will ship you a replacement cart immediately upon availability. Beware that the white coating on the carts can appear ripped and scratched and there be no underlying damage.
Bottom line: If in doubt, keep the cart and we will make sure that it is repaired.
When your cart is shipped we will notify you by email.
For all Shipping Terms and Conditions / Claim Instructions Click Here